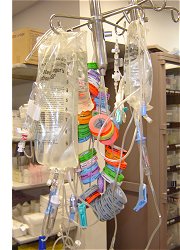 Core Concepts Anesthesia Review, LLC is pleased to offer a series of board examination review tests to help prepare the student registered nurse anesthetist for the certification exam from the National Board of Certification and Recertification for Nurse Anesthetists (NBCRNA).These tests will help the candidate prepare for a computerized examination as well as demonstrate strengths and weaknesses in the candidate's knowledge of anesthesia. We currently have available three Practice Exams, and several Topic Exams. We will be adding additional Topic Exams offering questions in a wide variety of subjects to help the SRNA prepare for course testing and for the boards. Our currently available Topic Exams can be found on the Products Page. If you don't see an exam you're looking for, check back with us soon as we continue to expand our line of Topic Exams.

A short sample exam is now available. Use the link below to start the exam. When completed you will receive an evaluation of your exam performance. Please print out your exam results and check your answers using the Check Answers link below.

We welcome suggestions to improve our products. Please use our Contact Us link to give us your comments and suggestions.